Clearwater Was Named Best in KLAS 2018 in Cybersecurity Advisory Services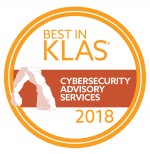 We are excited to share that our exclusively endorsed partner, Clearwater Compliance, has just been awarded the prestigious 2018 Best in KLAS distinction for their Cybersecurity Advisory Services, earning the top ranking for their SaaS-based software, OCR-quality solutions and professional services.  The Best in KLAS report recognizes the outstanding efforts of vendors to help healthcare organizations deliver better patient care.   
Earning KLAS' highest rating is a testament to the Clearwater team's exceptional performance and commitment to patient safety and managing cyber risk to improve access to care, timely care and quality care. 
AHASI is thrilled to have Best-in-KLAS-winning Clearwater as an endorsed partner to advance cyber risk management best practices and respond more strategically to cyber threats.   
To set up a time to meet Clearwater at HIMSS18 in Las Vegas or to learn more about partnering with Clearwater to help your hospital leverage best practices and industry standards for achieving compliance and cyber risk management objectives, please feel free to contact Clearwater's, Steve Rice at 405-492-8107 / steve.rice@clearwatercompliance.com.